Binance world popular cryptocurrency exchange launched P2P trading since late 2019. Already different peer-to-peer trading such as Local Bitcoins, Remitano, etc. Currently, Binance is offering a unique form of P2P trading such as Zero fees and competitive rates which are very lucrative for the crypto community who are regularly involved in crypto to fiat and fiat to crypto conversions. Binance helps them very amazingly through their P2P trading service by avoiding higher fees and unfair slippage.
Binance P2P Trading Overview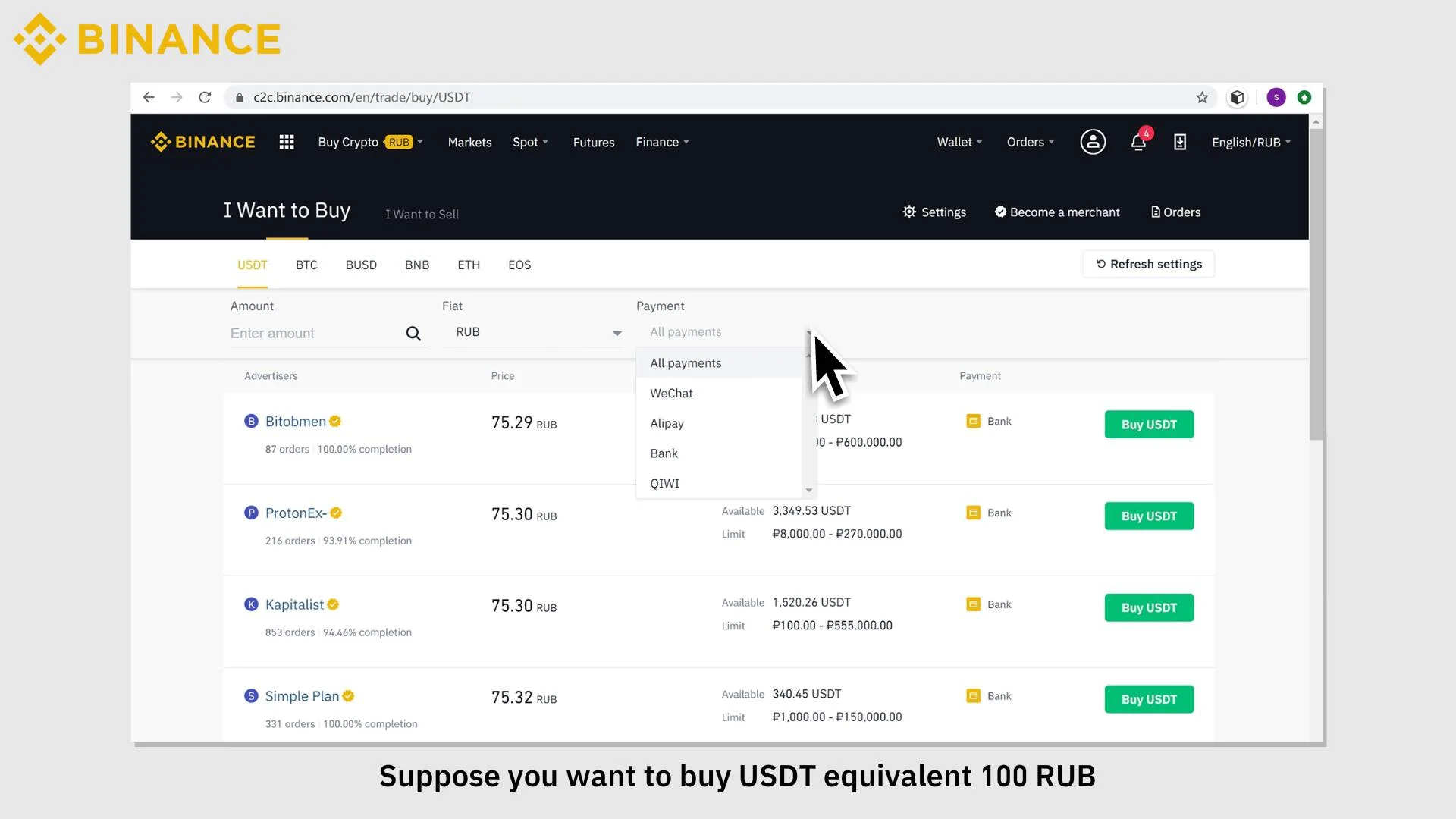 Currently, Binance is providing a very userfriendly environment for its users to exchange crypto with fiat through the local merchant's account holders. You just need to go to the Binance P2p trading panel and enter your desired amount you want to sell or buy, Select the appropriate seller/buyer to match your order for successful completion.
Able to use the Binance P2p trading you have to verify your KYC and SMS enabled 2FA security steps for proper order execution and avoid the delay or cancellation hurdles. If you have not verified your KYC verify through this link goto to the verify option and follow the steps to complete the KYC process to enjoy great rates Zero fees Peer-to-Peer trading.
After Completing the KYC you must TurnOn/enabled Phone number Authentication Assumebily you have enabled already in case not enable now.
Add Your Bank Account Payee Details
In order to successfully complete p2p orders yo much have added your payee details such as bank account details from or where you receive or send fiat funds to complete orders. You can add your p2p bank details by going to the link and add new fiat payment methods, enable, disable.
How To Complete Binance P2P Order?
Successfully complete the Binance p2p order you have to know clearly what you are willing to buy or sell on Binance p2p, after that simply select I want to Sell or I want to buy. Currently, USDT, BTC, BUSD, BNB, ETH, and EOS are available, and more will be addon coming soon. So Let see you want to buy USDT and then you have to enter the Amount willing to buy in USDT equivalent to your Local Fiat currency and the Select the fiat currency from the current availability of 42 fiat currencies. Then Simply Follow the Steps To complete the P2p order successfully.
Select the appropriate merchant or user to buy USDT which has the most market favorable rates usually the best possible rates listed on top automatically.
Then Hit Buy Button, upon that you will be redirected to the merchant/seller payee details to transfer the desired amount to complete the order.
Now carefully collect the payment details and send the exact amount you want to buy of USDT which is automatically equivalent to your fiat show to you which you have to pay to the merchant.
After Sending the Amount click payment to confirm button and send the screenshot of the transaction you made in a fiat bank account or any wallet for merchant confirmations.
When the merchant confirms the payment at her end they will simply release the amount of USDT or any crypto you selected earlier to your Binance p2p account wallet. Later on, you can simply transfer the amount from the p2p wallet to the spot wallet for trading and further activities.
Important Things Need to Consider While Using Binance P2p
When you made an order on Binance p2p make sure you understand that Binance is providing you a p2p platform where you can match your orders with available merchants who agree to provide the channel for exchanging their crypto/fiat currencies. So merchants have this interest because they earn the slippage amount which is different from the market price and when you complete an order 1%-2% of the exchange rate spread amount they earned whenever they complete the p2p order successfully.
Whenever the merchant post an Ad of selling or buy any crypto on Binance p2p they have to freeze the equivalent of the amount of crypto into their Binance p2p wallet for security reasons and combat fraud or bad misbehavior of unusual orders cancellations. You need to keep in mind in case you buy any crypto, you need to send the equivalent amount to the merchant within the best possible time(Count down starts on P2p order status panel) to avoid unexpected delays or cancellation, payment issues.
In case you are selling any crypto. You have the amount of crypto in your p2p wallet, transfer the amount firstly from spot wallet to p2p wallet, and then made a selling request to the p2p merchant. You should keep in mind that when you sell any crypto, initially payment stays in your account and wait for your approval of release payment to avoid merchant payment delays or cancellation issues after payment release or any type of fraud looking activity.
To maintain the secure and sustainable p2p environment it's payment contract-based trading where you are self-independent to deal with merchants in a trustless digital environment.
What happens if Merchant does not Send/Release the Amount on Binance P2P Buy\Sell order?
Both cases scenarios you don't need to worry about at all, Binance p2p platform provide you best possible options whether you can simply cancel the order or if you have send/release the amount but the merchant doesn't release or send the amount you can click on appeal button within the timer countdown and send the appeal to the Binance p2p support team for reporting the merchant behavior and for a possible solution of matter in you are involved.
Keep in mind both cases your amount or funds are secure and safe because when you sell the amount Binance holds your funds at Binance p2p contract and doesn't send/release the amount to the merchant until you release and confirmed assuredly for your surety and funds safety.
In case of buying any crypto when you made p2p order requests the amount of the equivalent in crypto frozen on the merchant wallet and give the merchant equal authority to confirm the transaction on her end and then release funds simply to avoid buyers/sellers misbehaviors and maintain trustless, disciplined and safe digital p2p environment.
Why & How Binance P2P Revolutionary Fiat/Crypto Conversion Platform With Key Features?
The Platform is a really great easy to use interface anyone has a simple approach to use the platform functionality and avail the services at very easy way. You can use the platform on desktop as well and mobile apps to use anywhere and anytime whenever you want.
Binance P2p is providing a very fast way to convert crypto/fiat and fiat/crypto to overcome the crypto entry and exit barriers even of severe local GOVT. regulations and hurdles. Not just Binance is providing p2p to buy or sell crypto, It's also a great source of income for merchants who applied for and give the services at very little effort which encourages them to hold and believe in crypto for a longer perspective.
Things get difficult for traders or investors for finding the best possible appropriate ways to buy bitcoin or any crypto securely without making another scam history in mind which leads to further frustration. Buy crypto through bank cards such as VISA or MASTER cards are not suitable options for the majority of people who have even not their full-fledged bank accounts.
Around the world, banks put high regulations in between crypto and fiat to make it ever difficult to enter crypto, so in those situations, the p2p platform has to give more exposure to grow even minority to the majority to make crypto entries easy and promote decentralization, managing finances independently and ultimately blockchain adoption.
Make Money As a Binance P2P Merchant
Holding crypto in the wallet as for investment purposes seems to be a boring or casual approach towards financial assets but providing exchanging services along with holding and earning passively which is a great thing actually motivate the investors to put money in crypto and let the money grows without putting it in on high risks, in fact providing p2p services and earning top of that is all most risk-free. The scope of earning through Binance P2p is growing gradually the platform gain more popularity and grows older.
We will cover in detail how you can become a Binance p2p merchant and make passive income risk freely on the wold revolutionary concept of p2p trading which actually contributing to overcome crypto entry barriers and making crypto mainstream by giving the masses access to crypto more cheaply, easily, and safely.