The exchange launched in the third quarter of 2017, according to their Twitter profile creation. So far, the exchange platform evolve a lot from a web-based interface to a complete cross-platform integrated eco-system with lots of functionality and features. According to Coinmarketcap.com, currently, the KuCoin is ranked on #5 with the exchange score of 7.5 & On coingecko.com ranked on #5 with the trust score of No. 10 and over ~$2.1 Billion Trading volume of passed 24 hours. In this writing, we will learn how a new user can get started with the KuCoin cryptocurrency exchange.
Join KuCoin To Get Upto $500 Bonuses
Get started with KuCoin Crypto Exchange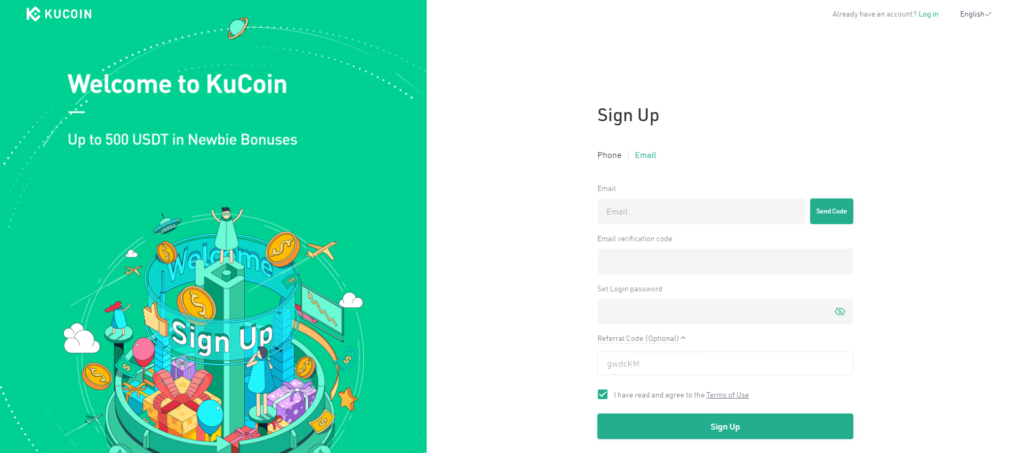 Go to the Create Account and Quickly Register your KuCoin Account. KuCoin offers you to register with multiple options whichever you like to start with like phone number or email. You can register what best suits you.
As it's your financial account multiple security factors will attach with your exchange so don't hesitate to use the primary details for long-term holdings. Make a strong password and keep it in a secure offline place for personal remembrance.
KuCoin Account Security Factors
KuCoin provides various options including Google 2Fa, email, Mobile OTP, Anti-phishing email code & trading password which collectively provides sufficient protection to your account from any possible hacking attacks.
To enable security settings just go under the profile menu and hit the security tab or option and enable them one by one to enhance your long-term account security and hold or trade peacefully. Although KuCoin has a risk detector system and all the possible methods to stop any fraudulent or hacking activity happening on the website despite that you should be aware of centralized exchanges history of hacks so keeping in mind don't keep your major holding on centralized exchanges.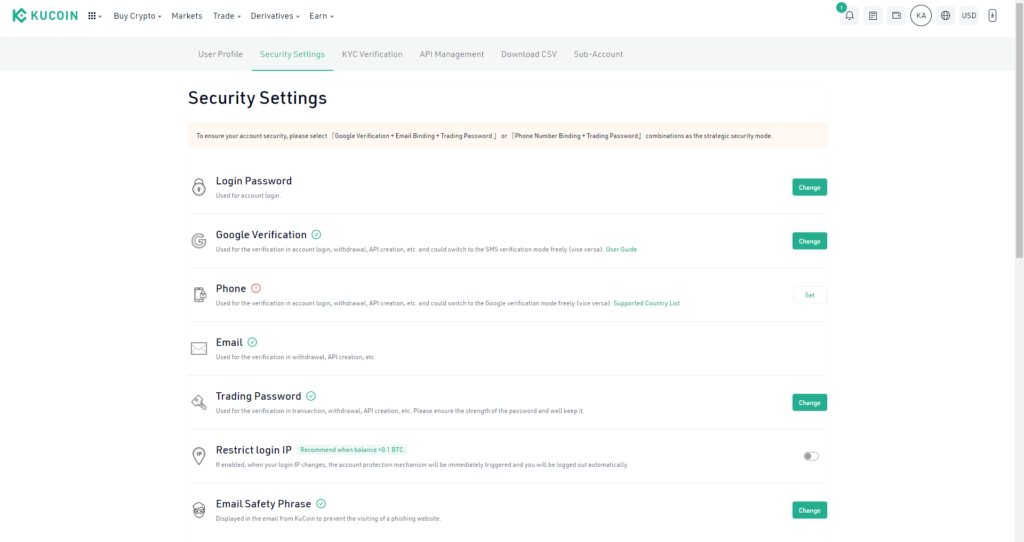 KuCoin KYC Verification Process
On the KuCoin exchange by default with basic KYC verification, you can get a daily 1 BTC withdrawal limit with currently allowed privileges you can trade and utilize the platform if you get interested and move ahead and want to explore more the platform features high leverage especially fiat deposit methods such as p2p and other related options on the Kucoin platform then you should consider proceeding towards KYC verification process.
After verifying basic verification you can get daily $1,400 fiat to crypto trading limit and max 100x futures trading limits. To enjoy more limits up to Daily 200 BTC withdrawal limit and $70,000 daily fiat to the crypto trading limit you should consider completing advance KYC verifications on the platform.
Complete Basic KYC on Kucoin

In order to verify your basic KYC on the Kucoin exchange, you have to simply visit the KYC verification section from your account settings dashboard controls. You have to provide your country of residency, full legal name, select type of KYC document, currently available ID card, Passport, Driver's license. Provide any of them and then proceed to enter your identity number then head over to read the agreement and then click submit.
Complete Advance KYC on Kucoin

To verify advance KYC on KuCoin you have to scan the QR code provided by Kucoin or directly Download the KuCoin app from the app store or play store. In case you are not able to use the mobile app you can also use the manual verification option below the QR section keep in mind this may take up to 10 working days to complete your submitted document verification.
KuCoin Trading Instruments
Spot Market
On the Kucoin currently, 615 coins or tokens are listed as active trading with the reported CMC volume of $2.2 billion which has a good scope of trading. As Kucoin is more tend to list new coins and tokens to grab the opportunity for their community to take early part into future promising projects that's why not just you find most gem coins on KuCoin coin plus you will also have to face lots of shit coins or more rug pull on KuCoin listed projects that's why you should be very vigilant before choosing any crypto coin/token for investment or trading purposes to avoid major loses.
The unique thing about Kucoin is that you can start spot trading with as low as $1 which means you have to lose nothing but just $1 to try out the platform.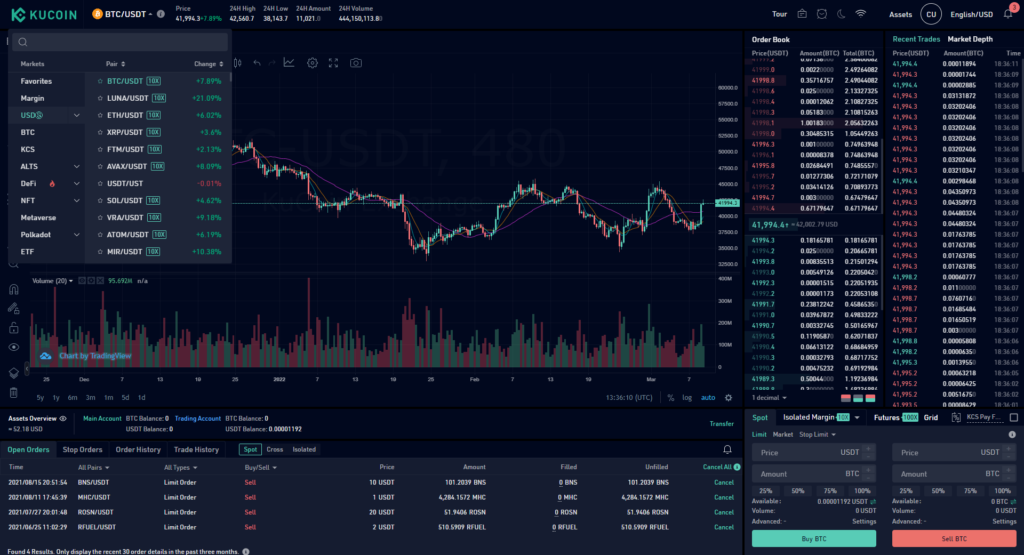 Kucoin Futures & Derivates Market
On KuCoin various perpetual pairs are available for you to trade and earn revenue through up to 100X leverage which is not Recommended for taking so much high leverage on any trade always be cautious and well aware yourself before trading any futures trading instrument available of any margins platform.
KuCoin Futures Lite
You may feel like trading on a gambling or binary platform because the Kucoin futures lite have fewer options of risk control and less deep understanding about the market and just doing long/shorts based on just speculative chart assumptions which are not suitable for long term trading. We recommend trying understanding Futures classic rather than putting money in an easy gambling interface where you have less control over money management.
Buy/Sell P2P Trading
KuCoin offers its users to buy or enter in crypto through their native currencies such as USD/AED/INR/JPY or any supporting fiat currencies via Debit, Credit Card as well as through local bank transfer facilities. Learn more about how to trade on the Kucoin p2p trading platform.
KuCoin Financial Products
KuCoin earns section offers various financial services to their users such as crypto cloud ming, crypto lending, KCS bonuses, Trading Bots, Kucoin spotlight and KCS earn, etc.
We will cover in detail all the products supposedly in our upcoming posts to better understand the true valuation of each product functionality because it is important to evaluate the properties before going to taking them seriously as your primary method of investment avenue.
Closing Thoughts
Kucoin is an ever-growing and evolving cryptocurrency exchange with a variety of features and functions available by flexible entry-level utilize them and get benefit from it by browsing and research which one greatly help you out in any required matter. We will further discover the platform services in deep study and help you understand the platform dynamics in upcoming posts.