After the second major bull run of the crypto market in 2021, ethereum had also played well, starting from $0.61 to all the way reaches to 4,500 All-time high and trending towards $10,000, The mainnet is facing major scaling issues such as more importantly high gas fee and low transaction speed which halt the ethereum development more in the mainstream.
Different layer 2 scaling solutions come and try to solve or propose the solution for ethereum issues through various layer 2 networks scaling solution rollups, Where the mainnet will be accepted as new rollups technical solutions and use the alternative methods to maintain the ethereum network as dapps development platform and achieve the transaction speed and build the platform for future dapps.
Arbitrum Universal Optimistic Rollup
Starting in late 2018 with a track record of solving ethereum scaling issues and later on become recognized as a major layer 2 scaling solution for ethereum. Arbitrum ethereum is the ethereum layer 2 scaling solution to solve the low transaction speed and reduce the gas fee through off-chain aggregators or validators. according to L2beat.com, the Arbitrum ethereum rollup is at 1st level of the universal layer 2 scaling solution.
Currently, the network is in the beta phase in which the administrative controls exist that's why the decentralization is yet to implement fully. So far $2.93 billion has been transferred on Arbitrum ethereum network transacted in millions of transactions. uniswap and the layer 2 supporting platforms started integrating with the Arbitrum ethereum network you can bridge your ethereum from mainnet to Arbitrum ethereum via Hop.exchange or celer bridge options and avoid the 7 days delay of reverse transfer condition on the Arbitrum gateway ethereum website.
How to Bridge Ethereum From Mainnet To Arbitrum ethereum Network?
Go To Arbitrum ethereum gateway or Hop.exchange or celer Network Bridging platform and connect your favorite wallet select the first network as mainnet and the second one should be Arbitrum and enter the amount you want to transfer make sure deposit such amount which you also able to bear the loss in case something goes wrong as the network is relatively new and on continue to testing the network till all market leaders started accepting it and start integrating with them like SOLANA, MATIC and other recently new platforms become popular.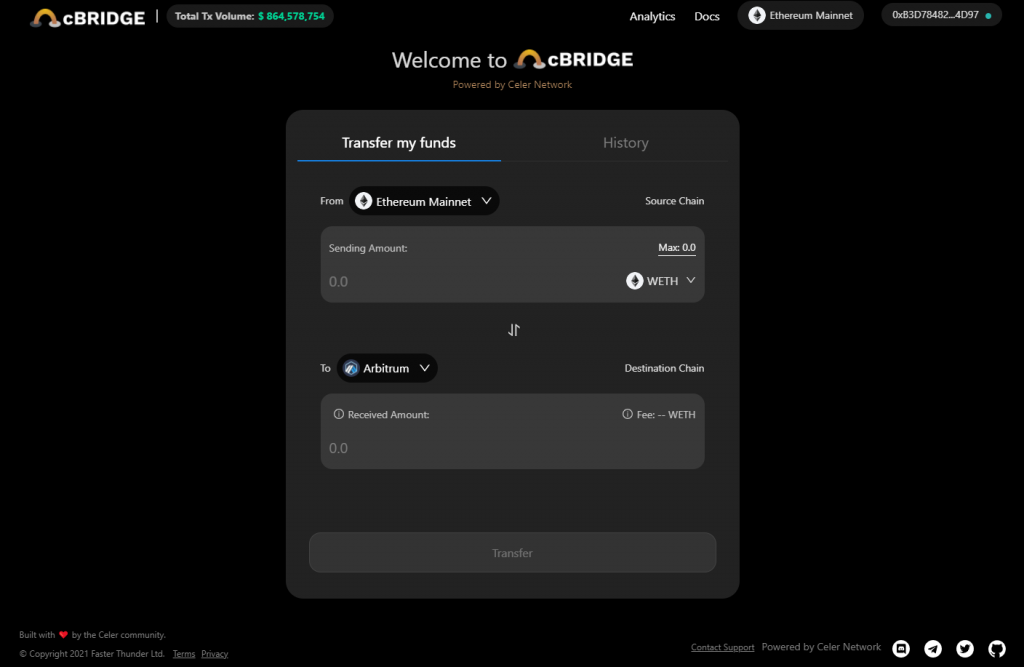 How to swap cryptos on Arbitrum Ethereum Network?
Check the updated exchanges, wallets & platforms list of those currently supporting trading cryptos on Arbitrum ethereum. Uniswap the leading decentralized swap service started accepting as active Arbitrum beta swap integration. The users can trade crypto from wallets on Arbitrum uniswap and can add liquidity on available pairs on uniswap and can earn fees from pools contributions.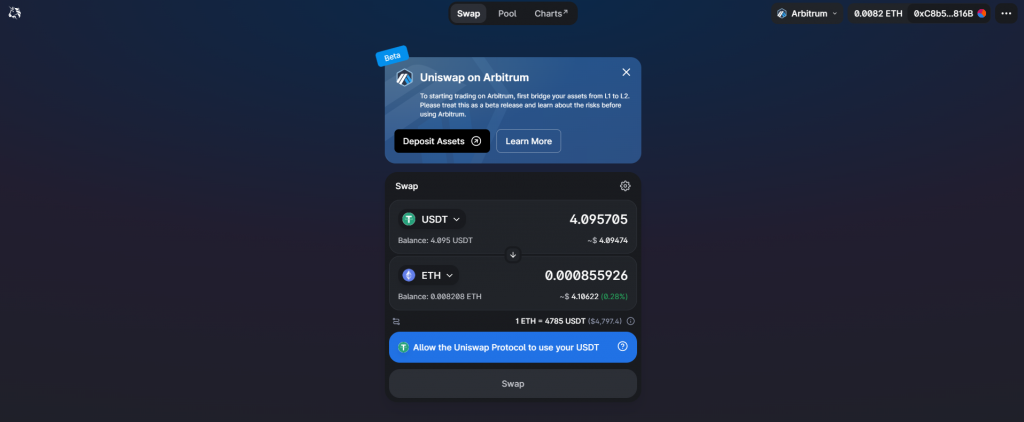 Arbitrum Ethereum Network Supported Exchanges Token Launch & Airdrop Speculations
As recorded before Uniswap, 1INCH, DYDX, ENS domains & any upcoming Defi-supported platforms do give airdrop to the initial users of their website and the series high amount of previous airdrops motivate and attract more users to come to use the decentralized platforms. So the community is speculating for Arbitrum airdrop through uniswap or any major supported platform users can get airdrop if they decided to make token as governance token and reward the early users. If you get lucky you can spend some gas fee when feels minimum traffic on network from ~ 60 – 110 Gwei and let us know-hows was your experience on this ethereum layer 2 solutions what you think is it will be the next native ethereum mainnet or just as side alternative solution like others.