Recently, the Publish0x platform developers team build various sizes of banners/widgets for platform promotion and awareness to retain more audience as platform traffic growth. So you will read how you can add/place the widgets/banners code to promote the platform through your referral links.
Let's Start
Firstly if you still not familiar with this platform called publish0x. People come there, write and read written content as well as embed videos for their desired interests. We have already covered the how now phase of the platform ecosystem so it's highly recommended to read the previous articles, videos, and post on curexmy. You can create your account through the Below link/Button.
What are Widgets/Banners
The Widgets/banners are Customized or pre-designed sizes images/gifs or any of the embed cards that can be placed on the web through upload the image file and create in an organized manner to show on the web as ads or sponsored messages for attracting the traffic for specific interests or desires. You can add the publish0x banners which are already pre-sets created on the ambassador program admin panel for promoting the platform.
Adding/Placing Publish0x Widgets on Website
You just need to go to your account dashboard area.

Then Click on Affiliate Stats.

Watch the Video Here is Mention below in Urdu Lang If you understand then Otherwise read Continue to Read.
You will be transferred to the page where you can manage your affiliate program. Here see in the screenshot of affiliate stats of curexmy account for Getting the banners code or placing on the websites. You need to click.
You can see the provided different pre-designed images with the HTML integrate able scripts which you can copy simply by selecting the required size of the banners and click the copy button.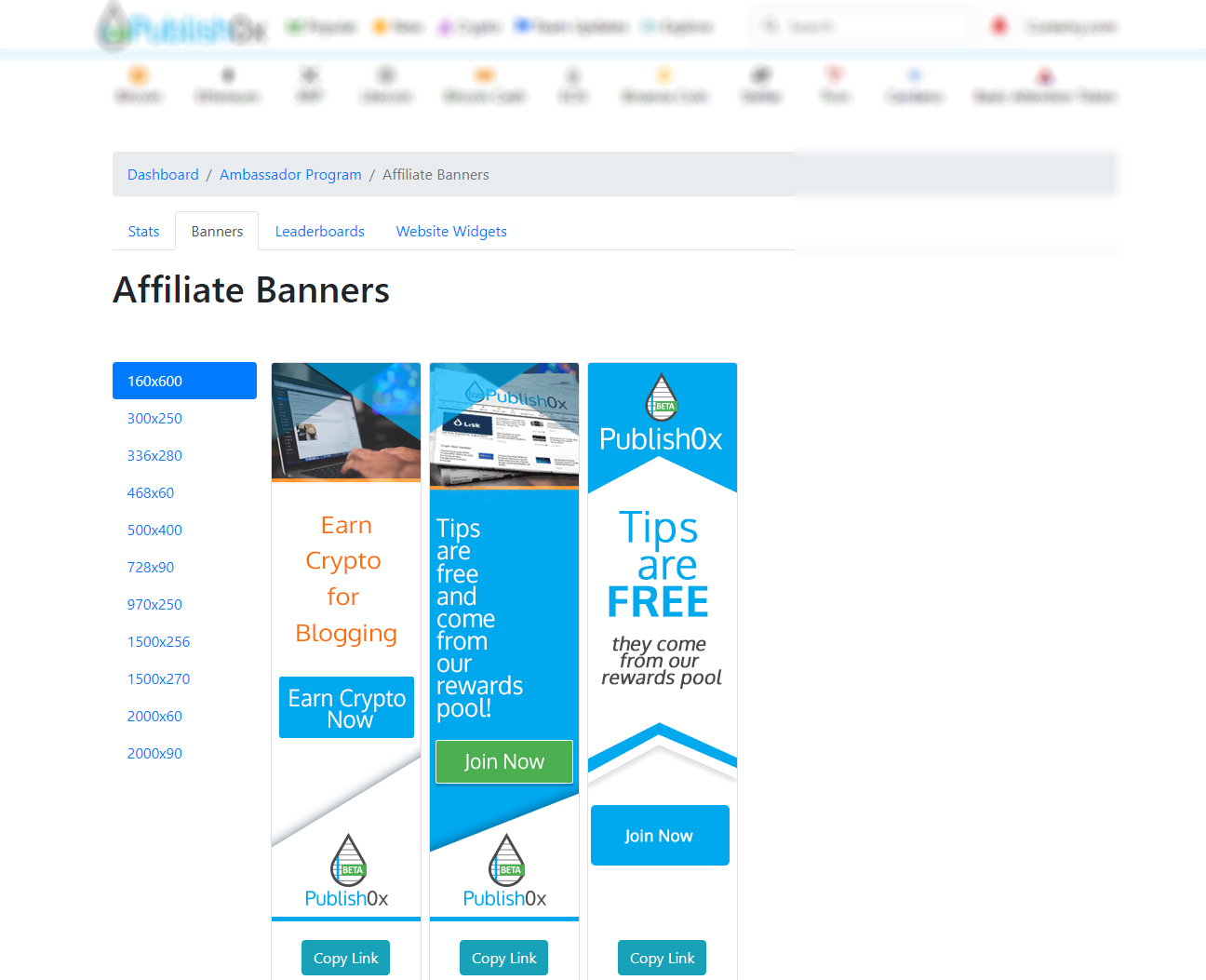 Adding Banners As Images
As you can see that the banners are coded in HTML anchor tag,img tag and the image is uploaded on the CDN folder of the content delivery network. So you can also post or embed image link to your website blog or any web platform for getting traffic and signups.
The images provided on the widgets you can save and import/upload on your sites or social channels for landing traffic.
Where and How to Place Publish0x Widgets/Banners Copied Code of Images. 
If you are a website holder such as curexmy or any platform where you have access to put images or HTML code editing authority you can past on there and promote the platform with our referrals link. Let say you have a blog on medium or any of the website where you can post images banner or you want to promote in on social media web platforms for getting paid traffic through advert process. Yes, You can start even campaign on Facebook, Google or any of the reliable advert networks for suitable safe traffic conversion channels.
So here learn with the example of adding HTML publish0x banners copied code on WordPress CMS like curexmy.com.
Ways of Adding Widgets on WordPress
You have multiple methods to display publish0x banners into your WordPress blog/website.
In Between Article Content
Sidebar Widgets
Footer Widgets
Header Banners
Recommended Custom Posts
So clearly you have five simple ways to show/display your affiliated publish0x banner or image on your WordPress blog. Here below see the example of adding a publish0x banner on your WordPress sidebar.
Steps To follow For Adding Custom HTML Sidebar Widget.
Go to your WordPress Dashboard and click Appearance then Choose Customize

You will see the option of Widgets under the customization Click on it.

Then Select Sidebar Option Based on your Them Settings In Our Case the Option is Provided with Default Sidebar

Click On the Add Widget Button > Then Select Custom HTML (Arbitrary HTML code.) > Custome HTML: Box Editor will Appear to add Code, Past the code which you copy from the publish0x ambassador panel. Click Done Then click Publish your Website Settings.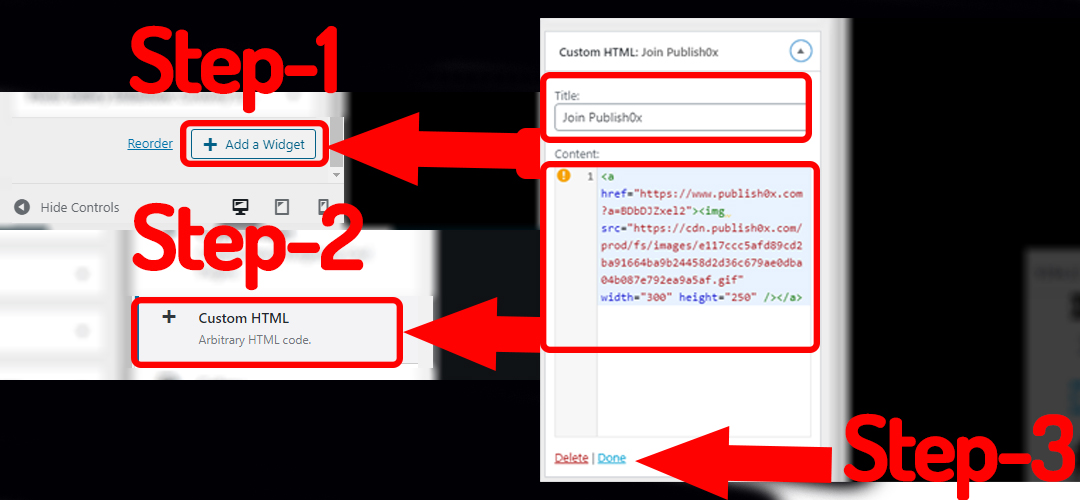 You will See the Widget button on your Website Sidebar As you can see in the Below Image.

Another way of getting the banner in a more customized manner you can embed posts on your website through Website Widgets Option.
Website Widgets Option
On this option, you can add a post more customizing way through horizontal and vertical post suggestions on your site. You can select manually and generate code then past it on your site in a different way.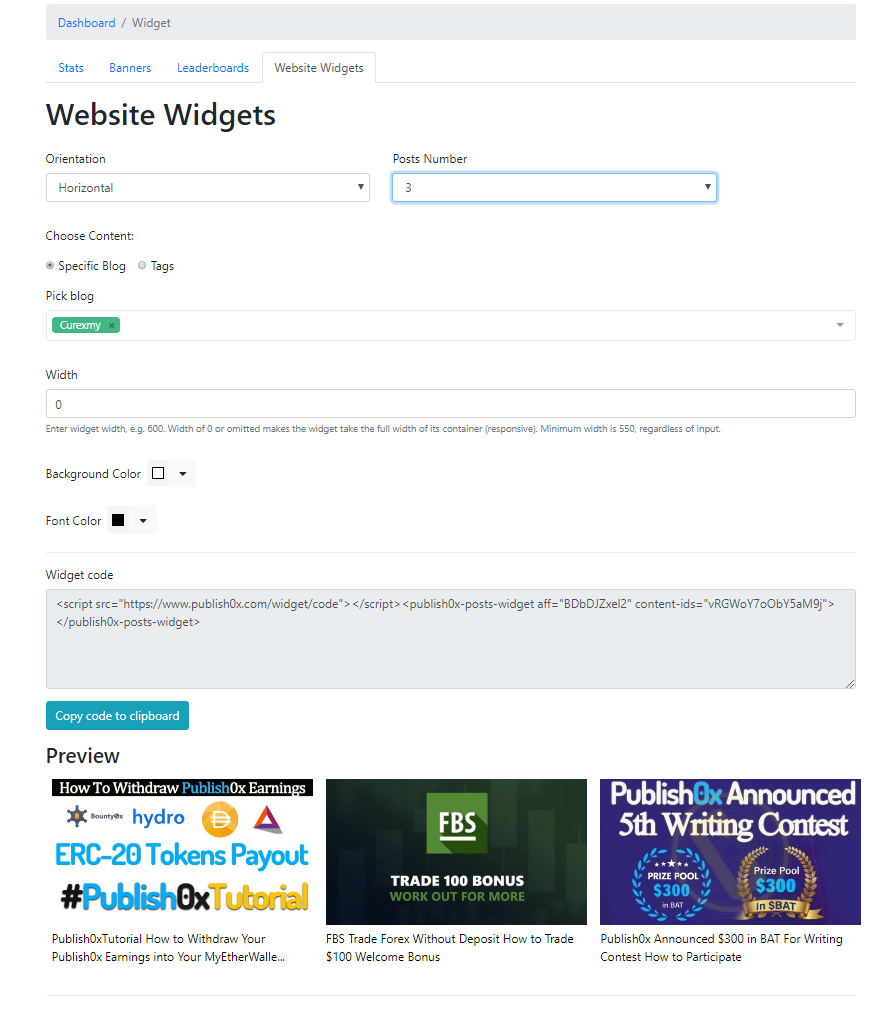 Congratulations! you have successfully learned and probably if you have followed to apply you have added the banner on your site. Now time to share your site and land traffic also you can try other ways to place widgets/banners on your site.
If you have any question or issue facing regarding publish0x banner placing or having code error while publishing or any of question which missed comment below we will answer ASAP.
Now you are eligible to promote the platform with your affiliate link.