On the 14 July, 2020 well know forex, stocks, and commodities trading broker announced and launched another deposit bonus program for their existing and new members upon installing and using their FBS trader App. So in this article, we will introduce you to this amazing self-learning based and highly interactive mobile-based application on both platform android and IOS. So let's move ahead and know more about this deposit bonus program and how you can trade FBS finance freedom success broker quick start bonus and is it worth for the user to install their app and spend time to get some value from it. We will see in detail and understand completely what is their program conditions and how much total time period have to full fill conditions.
FBS Quick Start Bonus Overview
The FBS quick start bonus is specifically made for beginners who wanna trade forex and different financial instruments through easy and interactive solutions so that they can avoid the hurdle of exploring and learning advanced tools in the forex market and spend more time than the money they are generating. The FBS trader app is just a simple to use trading app where you can open your orders, close your orders, and can set the pending orders along with their stop loss and take profit settings.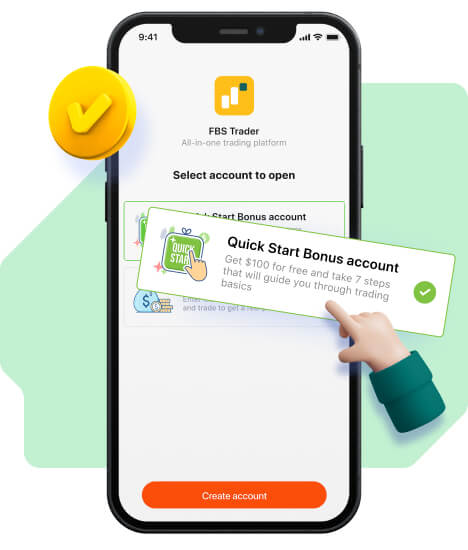 This quick start bonus program could beneficial in-terms of learning the basic fundamental of trading financial instruments such as what is lot size(The Volume of that pair you wish to buy or sell), how to trade different pairs and set stop losses, what our RR risk-reward ratio)(It should be simple and clear such as your profit/Take Profit?Tp Bigger than the loss/Risk you are taking on the particular trade) and these kinds of important aspects of trading understand a newbie while trading this bonus account.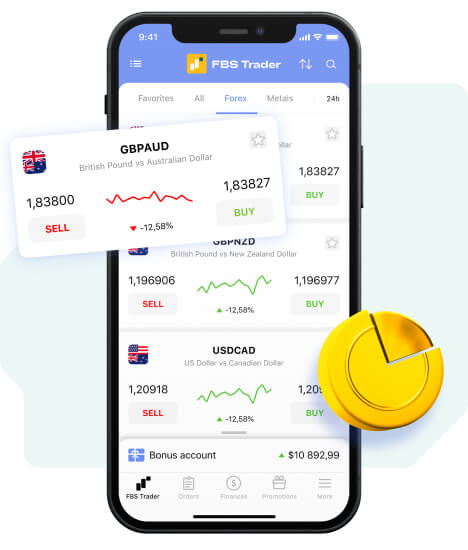 According to the terms and conditions are given below in this article are showing simply that if you are a beginner and want some real money to challenge or test your emotional and phycological decision making performance while trading forex in the high number of the orders within a short period of time, what will be the performance level while it. So if we evaluate the bonus program monetarily worth then there is not much enough financial benefit for the trader who has all the knowledge of basics which they have to learn after joining this program.
Steps To Join FBS Quick Start Bonus
Time needed: 20 minutes
Follow the Steps To Get Access To FBS Quick Start Bonus.
Open the Link and Register Account By Submitting Your Details

Simply Signup through Email or Google, Facebook, Apple ID Account.

Make Sure You have to Verify your Identity To Eligible For Withdraw Balance Process.

Open the dashboard and goto verification process confirm your phone number and GOVT Issued ID card Copy Front and Back Scanned or Camera Picture By Submitting In case You also need to submit your Utility Bill to verify the address scanned Picture or Camera Captured Clear Picture.

Now After Verification of Your Account Goto the Android IOS App Store Or Apk To Download FBS Trader App

Simply download and log in with your Credentials Which you provided During Registration. Or you can sign in with Google and Other provided social accounts logging in option accordingly.

Now On The Account Selection Screen Select Quick Start Bonus Promotional Account.

By selecting the Quick Start Bonus Account option then tap to create account option to processed further in the app to join and participate in the promotional balance real money account.

After Account Creation you may See the Congratulations🎉 notice that you successfully created account.

Simply tap Got it Option and continue to the activity page. You will have credited $100 balance For the trading bonus account.

The Quickstart bonus account screen you have to read the mandatory conditions to withdraw balance read here below.

Now Complete the basic app builtin tutorial step by step just tapping the ok …. and next options to continue and complete the basic beginner tutorial just how to show in the below video for visual understanding.
FBS Quick Start Bonus Account Features Overview
The Account type is Standard and it can Swap-free Account Switchable. You can Also Hedge in this Account the amount of withdrawal differs on hedging according to conditions. The currency of this account is USD and the leverage at fixed at 1:500. The Order volume for single lot size is limited to 0.01 lot size no more no less. You will receive in total $100 Amount to trade in the market to attain profit from the given amount.
FBS Quick Start Bonus Terms & Conditions to Withdraw Balance
To able to withdraw you must have to comply and act according to the given conditions.
The maximum time to fulfill the condition is 10 days excluding non-trading days to complete 7 steps.
The actual total active trading day will be 3 because you have to complete the conditions in 72 hour's time.
You have to close the orders in 24 hours because you cannot open a trade order for more than 24hr.
The maximum loss amount is no more than 10 USD if loss grows further the trade close automatically.
You cannot place an order volume more than 0.01 lot size for once order.
You can attain a maximum of $0.05 upon every closed profit order & with hedging(Opening order at the same time on the same price level to both directions Ex. Sell & Buy) of 0.02 twice lots can attain in total $0.05.
Every closed profitable lot of stocks can attain 50% of the commission from the profit and in the case of hedging can only attain 25% of the profit.
Individuals can only use this bonus account once and from a particular account.
You can withdraw the amount of profit you made according to the formula Ex: 200 micro lot 0.01X200 = 2 Standard Lots and per lot with hedge $0.05 can be attainable. So the total possible profit calculated as $5 and without Hedging equals $10.
After the 72 hours of time if the bonus profit is in profit then you can withdraw it to a real account, now deposit is required and along with lots to trade and unlock the bonus profit completely.
In case you made 0 profit and you are negative then also you can avail up to $30 of bonus profit to transfer to a real account but to unlock it for payout make sure you deposit your funds and accordingly the conditions trade lots and unlock profit up to $30. For example, to unlock $30 have to trade possibly 6 lots without the hedge.
Now whatever your bonus is you can unlock it by completing the required lots for example for $10 you have to trade 200 micro 0.01 micro lots to unlock the $10 bonus profit without the hedge. If you will do hedge then the 200 micro lot can be unlocked for withdrawing $5. The pips or positive negative trade result is not required just to trade required lots to unlock bonus profit.
You can deposit the funds whenever you want there is no certain time period to unlock the bonus profit.
FBS Quick Start Bonus Review Conclusion
This bonus program is specially created for the beginners who want to understand the core fundamental basics of trading forex and financial instruments as mention earlier FBS has great aim to educate traders to increase the possibility of knowing traders in the market instead of just speculators.
If you are looking for a great amount of monetarily benefits from this bonus program then this will not suitable to you because according to the conditions nature of this promotional program is that to give an easy and clear path for beginners who haven't taste the forex market so that they can test their ability and experiment the market according to their decision making and quick start with FBS broker.
If you have any queries or if had anything missed or confusion while going through this article or missed to mention anything major you feel, don't forget to mention below and ask your queries we happy to answer.