We are going to diving deeper into the decentralized non-custodial wallet called Atomic wallet introduction and user guide. what are the benefits users have gained so far from this true decentralize independent secure wallet and what are the superior opportunities you have to grab with the quick start of creating and grabbing the opportunities linked with this cryptocurrency wallet as well as providing atomic swap within the wallet.
Atomic Wallet Overview
Many wallets created so far in the crypto industry some are just backed by scamming vision and few are here to just loot your crypto go away from this space after dying their image in the market. So few but well reputable and well-reviewed crypto wallets are here not just to run their business model they actually here to give you a strong bridge to sustain with your journey till life long and giving you their shoulder as safe haven to have actually peace of mind of storing crypto. On those of list, we cannot forget Atomic wallet because it is highlighting itself so why we need to consider it closely that's why you need to use it as day to day sending and storing crypto for actual peace of mind more than on the bank you believe to store your fiat currencies.
According to the Atomic wallet initiated on the first April 2018 Facebook page transparency and ethereum blockchain ETC-20 Token AWC platform's native token ICO that on 1 July 2018 by Konstantin Gladych. The massive development is done in the project so far from layout upgrade to bug fixing with the huge features increments and also the team highly focuses on layout enhancement for good user experience.
You can use the atomic wallet through installing their application on your system either you are a user of windows or android you can avail the relative platform supportive app from the website download link.
Atomic Wallet Interface Guide
Let's continue to download the platform to learn how to create your first non-custodial wallet and understand how to use, transact & secure your private keys safely to protect your funds from lost chances.
You can simply access your compatible wallet by selecting which platform you want to utilize on it. Currently, there widely use available WINDOWS, MACOS, Ubuntu, Fedora, Debian, and Android, IOS also can downloadable the latest android APK file from it.
IN THIS ARTICLE WE ARE EXPLORING THE DESKTOP WINDOWS APPLICATION OF ATOMIC WALLET. YOU CAN INSTALL AND USE ALMOST SAME PROCESS OF INSTALLATION AND CREATING OF WALLET ON OTHER PLATFORMS.
Following Steps to Install Atomic Windows Desktop Wallet and Create It.
Open the executable file it prompts permission to run click YES.
It installs may be in few minutes automatically.
Then Click on Create New Wallet option Supposably You are creating the first time.
After that Enter your Alpha Numeric STRONG password including special characters.
Then you will direct to backup your wallet to save the Backup keys as you see in below visualization.
After backing up thoroughly click on the option to step forward.
Now successfully your wallet has been created here the first look😲.
Now you have created your wallet as of now you are enough familiar that how easy it is to create your own Atomic wallet.
Atomic Wallet Features
Let's now explore the features and some basic fundamentals of the Atomic wallet on which is based and the things which are unique within it and put it in a different consideration to adopt it. You may have noticed that the wallet seems to be too easy to use and very less guidance required to understand its layout and UI user interface that's it's the big plus point for Atomic wallet developers for their project that they have solved the major problem of complexity in cryptocurrency the reason people scare come to crypto adoption so far made it faster to adopt and come join the journey with a basic understanding.
Multi-Crypto Collection
It was even hard to imagine how easy they made support for hundreds of pf crypto at the same platform panel to send, receive, and even exchange while staying anonymous without compromising decentralization and security. So far this article is writing up to 47 coins blockchain support to send and receive them into Atomic wallet and you can add multiple ERC-20 tokens into Atomic wallet just by sending any amount of that particular token to your atomic ethereum address that token will be added automatically.
NON-Custodial Wallet
Yes, Atomic is a non-custodial wallet that means you are totally independent about your assets and their private keys. The wallet does not store them on a server and they can not access it. You can access them by just decrypting the wallet with private keys or by providing backup phrase to again access your private keys or funds.
Your all the crypto are bound with AWC token backup phrase whenever you restore your wallet at atomic you can access through backup phrase and you have access to all the particular cryptos private keys along with their QR codes by just going to application settings and then click on private keys option current layout upper right to open enter your password you when you created or meanwhile restoration moment.
Buy Crypto & Atomic Swap
Although buying crypto through Atomic wallet is not anonymous at all because it is using a simplex provider which uses centralize channel of VISA MASTER card and along with requiring personal details here you are actually telling and giving your details to the third party by compromising your privacy which not recommended if you are not comfortable with it. Using an Atomic wallet built-in exchange is a bit private manner if you don't utilize the buy option before. It actually uses DEXs or semi-dex channels to provide you exchanging services which are sometimes or even mostly charging higher fees which still not recommended if you are not comfortable with it.
Crypto Staking
It's a plus point for any decentralized private wallet to provide staking rewards within the wallet by just holding cryptos. Usually, people prefer to earn staking rewards through depositing to the other address which is not much effective to do so or deposit even to centralized exchanges which offer a higher amount of staking rewards based on their rewards pool to attract more deposits. You can stake those coins which are using PoS(Proof of stake consensus  Algo ), DPoS(Delegated Proof Of Stake Consensus Algo) to gain the staking rewards or elated to staking algos.
Support For Users
The Atomic wallet is the only few of one who has this incredible option for their users that they can chat with support or discuss their issues on the list on non-custodial decentralized private wallets it makes the adoption more established manner and believer feels peace about their involvement in the evolving technology. You can watch the pre-recorded help guiding videos for your self learning about platform and if you are facing any issue which not yet demonstrated in the video you can search through community FAQ to get a quick solution or if there is a rare question you have even you can send email to them and they will reply you in their ASAP time.
Earning Ways By Atomic Wallet
Yes, this is also the very few wallets of one who offer their users make money from it and they can avail it from different options provided with in the wallet. Let's see what are the easiest or toughest ways to earn money and how much you can expect.
AWC Token Overview
This is the native token of the wallet for different utilities created on ethereum's blockchain in 2018 with the total supply of 100 Million tokens done ICO in September with a reported current market cap of 45 million-plus dollars you see further details on ethereum explorer to learn more. The AWC token has multiple use cases such as getting Airdrops by affiliating, staking rewards, exchanging features, Binance Dex migration, and other features will introduce by the developer to enhance the use-cases.
Binance DEX Migration of AWC Tokens
AWC ERC-20 standard token has been created on the Binance chain and the major upcoming event will be available on the world's largest cryptocurrency trading hub Binance. This event occurred on 30 April 2019 the team decided to list AWC on Binance dex for decentralizing trading that what they move the tokens on the Binance chain 50% of the supply has been burned out on the ethereum blockchain and created on Binance chain it recommended to swap your tokens with BEP-2 standard for part of future and it's mandatory now for stacking rewards and it highly recommended for now from Atomic wallet team.
Atomic Token ROI Progress
The AWC token has shown great returns higher above so far due to its fundamentals strongness and technological advancement the token has risen in ROI higher above 1000% and currently writing this article the token is on his All-Time High on the Price of $0.45+ with the 66.636K Coinmarketcap reported a trading volume. This is happening due to the low circulating supply of token and the season of Alt-coins rising that's why this token has reached its Peak of All-Time High.
| | |
| --- | --- |
| Total Supply | 100 M |
| Current Price at Time of Article Publication | $0.471542 |
| Atomic Wallet Coin ROI | 1,176.24% |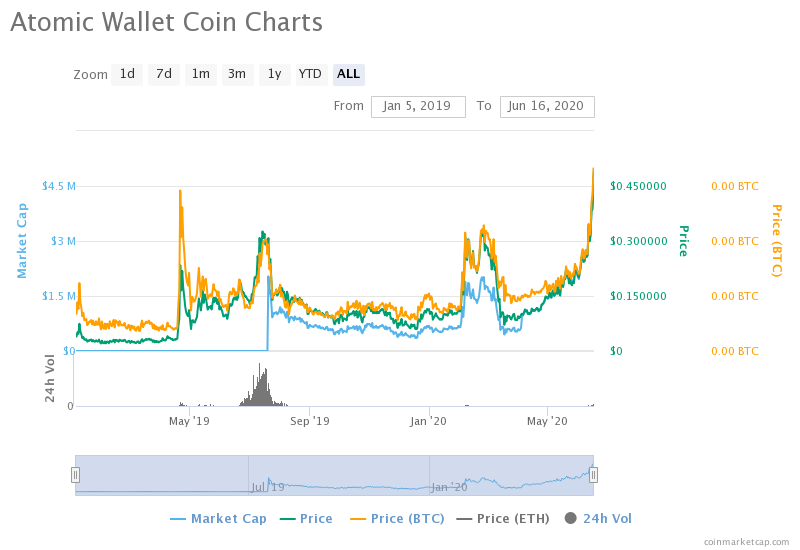 Following Are the legitimate Ways OF Earning With Atomic Wallet. Let's a list out from easy to toughest from my mind.
AWC Airdrop
It is the easiest way to earn some money through their airdrop program even though the very low supply of token the team is doing the reward program for marketing purposes and giving community free money-making opportunities through crypto.
You can join their airdrop by just creating your wallet but you must have $10 of crypto in your atomic wallet no limited to any selective asset you can store any asset either it's a coin or ERC-20 tokens. You will share your link with anyone and some buddy from your affiliate link actually it's not enough your refer should also enter your promo code then you will receive 5 AWC and your referral receive 10 AWC tokens like if you will enter Promo code and the owner of this promo code will get 5 AWC tokens as Airdrop reward.
The Snapshot of Airdrop Eligible participants will capture every month of first and paid according to rules on 15 of the month next to joining Month.
Membership
You can earn more money by joining their membership program so what is exactly the atomic wallet membership program? In the atomic wallet membership program, you need to buy the selective amount of AWC BEP-2 tokens and hold on Atomic wallet(This campaign for to speed up the process of Binance Dex Migration) and start exchanging the more you use atomic swap feature the more you will receive cashback based on your membership status from 0.25%  – 1% of the amount of exchange you have done in a whole month of membership.
Staking in Atomic Wallet
The blockchains are based on some consensus algorithm to validate transactions some are based on POW(Proof of Work) and some are based on POS(Proof Of Stake) and DPOS( Delegated Proof Of Stake). The blockchains which are based on PoS or DPoS are actually based on staked coins validators to make transparency and run the eco-system with consensus. You can become a validator by staking your amount to their network coins as hold on to get rewards and also validate the transactions in the network.
Atomic wallet is providing numerous blockchain staking support to join the staking program and earning monthly and yearly yield based on the network staking rewards ratio. Currently, You can avail up to 11 coins staking rewards including AWC token staking with the highest rewards on 23%.
Ambassador Program
If you are a person who is holding a social media page or having a blog like us or any popular traffic gaining website you can attract new users to bring towards atomic wallet users and having marketing skills you can become an Atomic wallet Ambassador.
You can submit this google form with your details about crypto experience and interest and how you can help them to share the word of atomic wallet in the market of cryptocurrency then you can submit your resume also and hope you will get approval and make some good amount of AWC tokens in your turn. Already many people have joined their ambassador program and make a good amount by the market the atomic wallet.
Atomic Wallet Vs Trust Wallet
The Atomic wallet founded in 2018 by Changelly founder Konstantin Gladych a non-custodial claim as 160+ cryptocurrency exchange and the Trust Wallet founded in 2017 by Maksim Rasputin, Viktor Radchenko and acquired by Binance on 31 July 2018.
Although the Atomic wallet founded after the Trust wallet but so far it gain massive recognition from the community due to it's smart and problem-solving marketing tactics.
| | |
| --- | --- |
| Atomic Wallet | Trust Wallet |
| Multi-OS support  | Only For Mobile Yet |
| 40+ Coins Support easy to add custom token & Coin Manually Need to request first | 40+ Coins Support easy to add custom token & Coin Manually |
| Up to 12 assets staking rewards | Up to 9 coins staking support |
| 3 Earning Options | 2 Options staking and Airdrop (Worthless) |
| Exchanging Option through Atomic swap | Using Binance Dex Exchanging Support |
| Fiat To Crypto support | No fiat To Crypto Support |
| 4.6 Playstore Rating | 4.5 Playstore Rating |
| 100k+ Android Download so far | 1 Million plus download |
Both are good projects with a strong vision and eventually contributing highly to the adoption of blockchain and crypto. In the world of any market minus plus points are part of the competition but the thing is matter improvement and easy to use along with future support that actually matters.
Hope this Detailed article help you understand the fundamentals of atomic wallet and the basic to an elementary understanding of blockchain-based decentralized non-custodial wallet for cryptocurrency. Let me know if you found anything or wrong interpreted in the article about any point or if you have any questions ask me in the comment I highly appreciate your attention.