The exchanger's hub is called Swapspace.co. Started in mid-2019 with the mission or vision of easing the process of cryptocurrency swaps, working on the idea of bringing different exchange platforms to come together in one space with the help of Integration. We will review the features and upcoming updates about Swapspace and tell you how Swapspace will be proven as a great initiative in the near future.
SwapSpace Overview
The platform is currently based on a website with standardizing technologies. The mobile apps are coming so according to their road map. Swapspace is the hub of different exchanges liquidity providers who come together to fulfill the needs of individual swap order generators. Swapspace allows the different exchanges to integrate with the exchange listing APIs to start providing services with ease of a single platform with a variety of exchanges and high liquidity without the hassles of registration and KYC's.
So far different exchange partners enabled swapspace to implement 450+ crypto pairs that can be swap within 15-20 minutes in normal situations. Currently, Swapspace is partnered with Binance, swap labs, change hero, let's exchange and the list continues to grow up as new partners come together within the concept of swapspace.
Quick Swap With Trusted Partners

Whenever you start to swap and head over to select the exchange partner, you have an option to select which have a good trust level according to their ratings on Trustpilot on an independent public rating tracker service. Although the exchangers on swapspace process order automatically via APIs, due to blockchain nature transactions take time to execute and confirm so once the input transaction completes then the output transaction initiates.
How To Swap Cryptos on Swapspace
Goto Swapspace.co
Select Your Crypto You Send and Willing to Receive then Enter Amount and hit view offers button

Now you can see the listing of Available offers of fixed and floating prices, click suitable exchange button to continue.

Now You have to enter your recipent address and refund address (incase the transaction get failed amount will be trasnfer back to sender wallet) then accept the TOU's & P&P then click Next.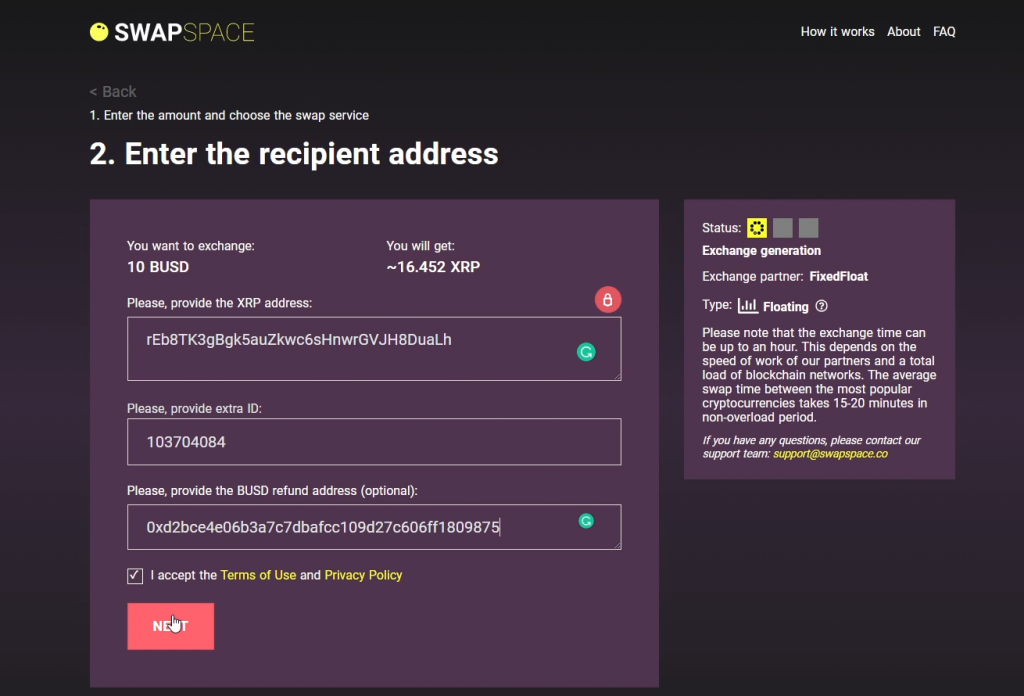 Then the partner exchanger receipent address will be shown to you to copy and send the desired amount.
Carefully copy the address and transfer the required amount you want to swap.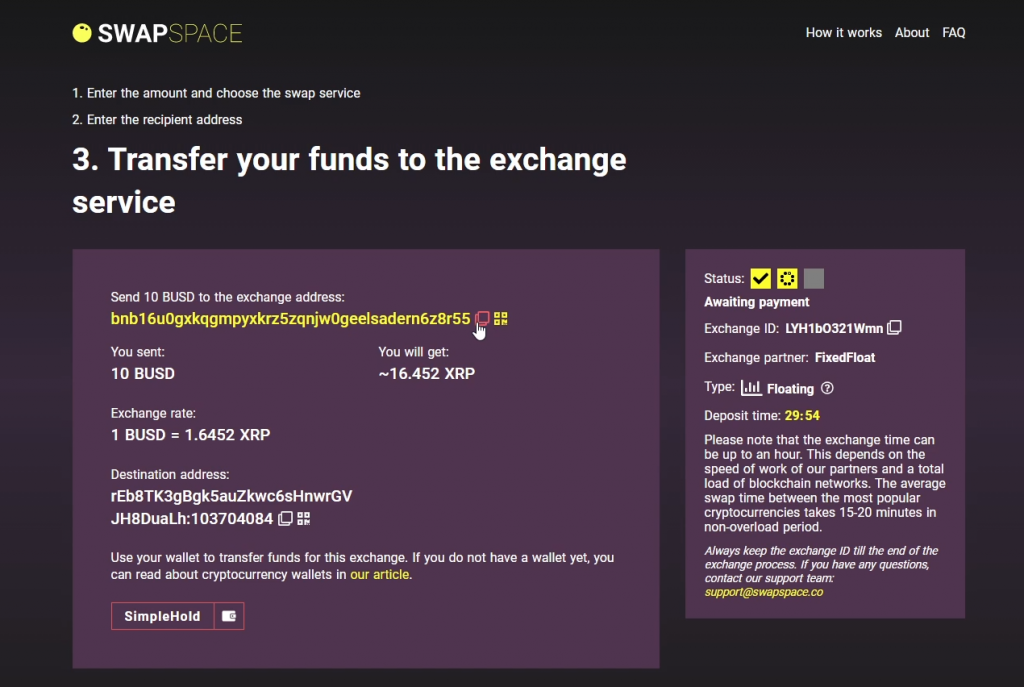 Once the crypto receives at the partner exchange account the swap request will be initiat shortly, meanwhile you can wait or provide the email address where you will be notified atomatically when order completed so you don't have to wait stick to the exchange status page.
Finally, You completed your successful swap at swapspace. In case of any issue, you can copy the transaction hash id and directly contact live chat support and resolve your queries quickly.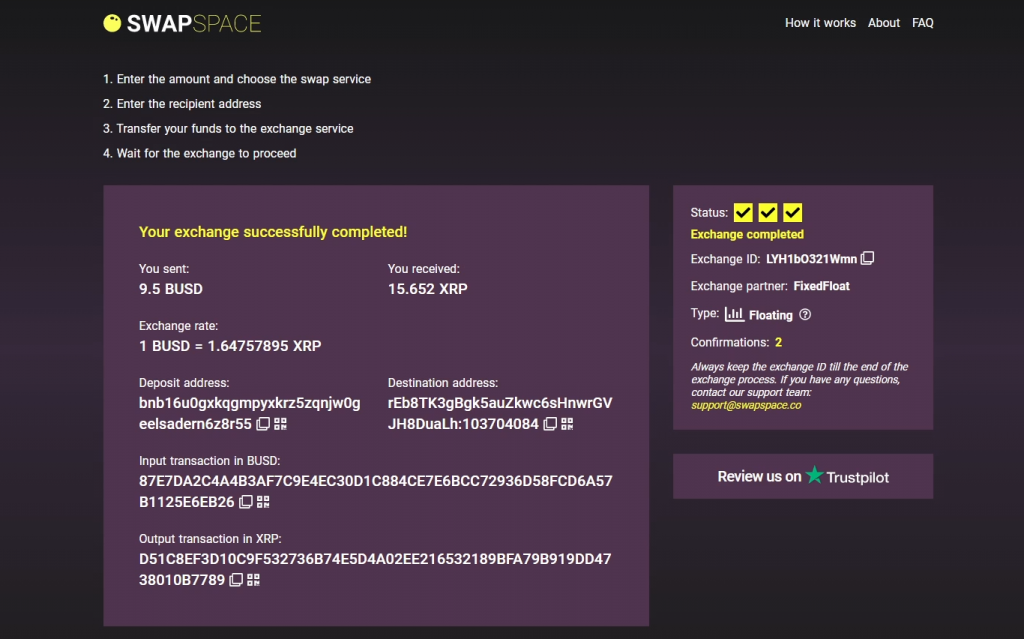 Floating Prices & Fixed Prices
The floating prices are natural live prices that are affected and fluctuate according to the market price action. In the floating prices, the swap orders completion amount maybe vary above or below the approx value of pre-calculation.
Fixed Prices are the precalculated confirmed risk-controlled values that are the close same amount you see before the swap starts on the exchange selection page. The fixed prices swap rate is relatively low due to the risk and margin management of the partner exchanger for example if the BTC price is trading at $31,000 then the swap amount in USD will receive excluding network fees approx ~0.5-0.7% below the current price.
SwapSpace Vs Decentralized Crypto Exchanges
Swapspace is based on exchange partners who are integrated with centralized exchanges to provide counter liquidity through their private pools or through live liquidity at centralized exchanges. Due to the least scalability and order execution speed, you cannot be fully dependent on swapspace or likewise platforms for regular trading. The swapspace platform will be beneficial for the people who want to avoid high volatility and the complex process of direct centralized exchanges and decentralized exchanges technical exposure.
The Decentralized exchanges that are currently based on the modern concept of liquidity pools or liquidity providers, where the exchanges pools have different pairs, and the people who want to earn yields on their crypto, can stake or lock their liquidity in any desired pool to earn profits from swap fees. On the Dex's you have to face the high slippage due to volatility and low liquidity and the speed of swap is possible at a higher cost. On the Dex's your swaps are more secure and transparent with blockchain visibility of transaction tracks.
Swapspace Affiliate Program
You can register your profile at swapspace.co to get started with their affiliate marketing program to earn commission from the completion of other user's trades from your referral link.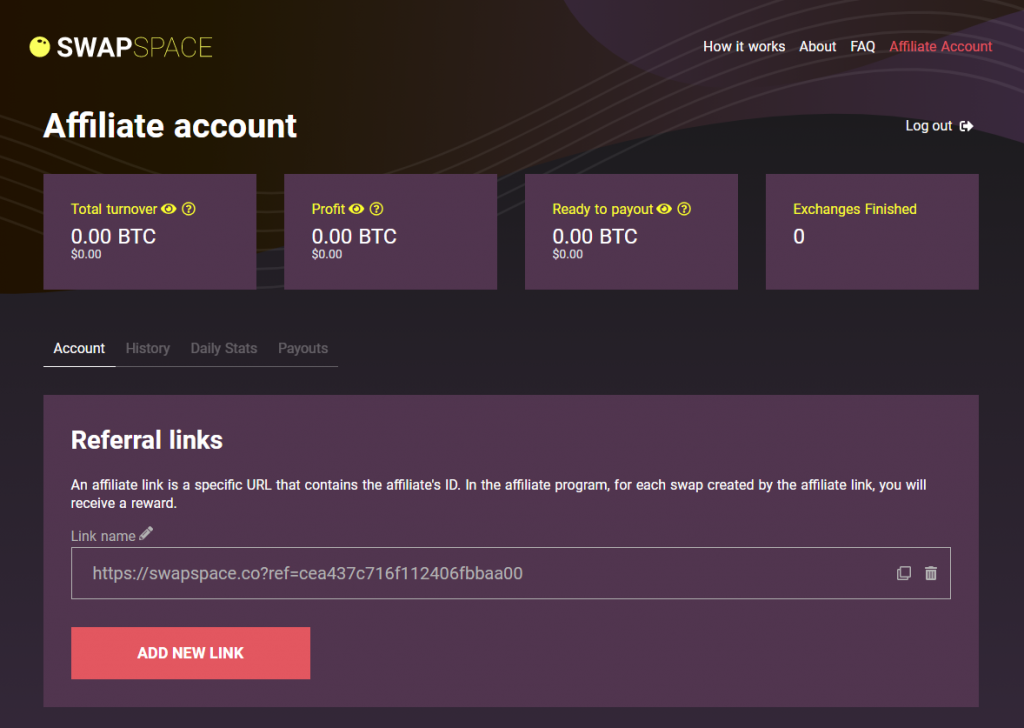 You can start your own website and can integrate with swapspace.co APIs read the documentation here and become part of the swapspace future.
SwapSpace New Exchanges Listing Program
As we discussed above that the swapspace is the hub of collective individual crypto exchange partners so that's possible via their futuristic exchange listing program. Any new or existing Exchange platforms who provide similar to the concept of swapspace existing model of simplifying the swap of crypto without registration and KYC's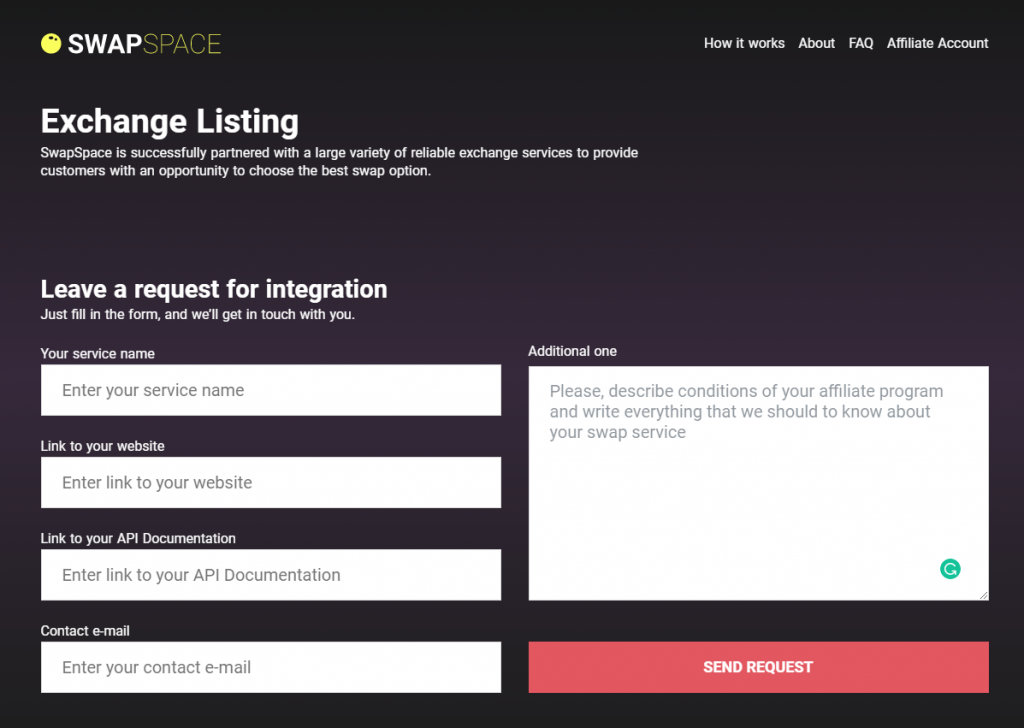 Swapspace is still Serious Under development Process
Currently, swapspace has issues of liquidity of various listed pairs which should be meet soon in order to successfully accomplish their true vision. In their road map, the new listing of exchanges is under process. applications on the cross-platform are coming soon, localization of native language support UI is expected to be released in upcoming versions, fiat to crypto support is yet to introduce. check more in their Road map About section.
Final Thoughts
The platform is considered a serious problem solver for the newbies in crypto and meets their need for quick swap from their wallet to wallet transactions without registration and hard and complex KYC phases of centralized exchanges. Swapspace can be your day-to-day tool to swap between different pairs when you are unable to find the desired pair at your central exchange platform or face high unwanted, unusual withdrawal limits.