XM Global Limited is one of the oldest broker with over 196 countries access to their financial services. XM is recognized by Cyprus, EU, and Australian securities commission firms for regulation formalities.
On December 01, 2020, the XM forex broker introduces a great promotional program for the newbie's registrars not just they can test their system in real market order execution, they can also avail the opportunity of earning money by testing their trading skills in the real market experience. Let's explore the specifications of this bonus program terms and conditions and how the users can be eligible to successfully avail the funds and trade so that they can withdraw the profit amount.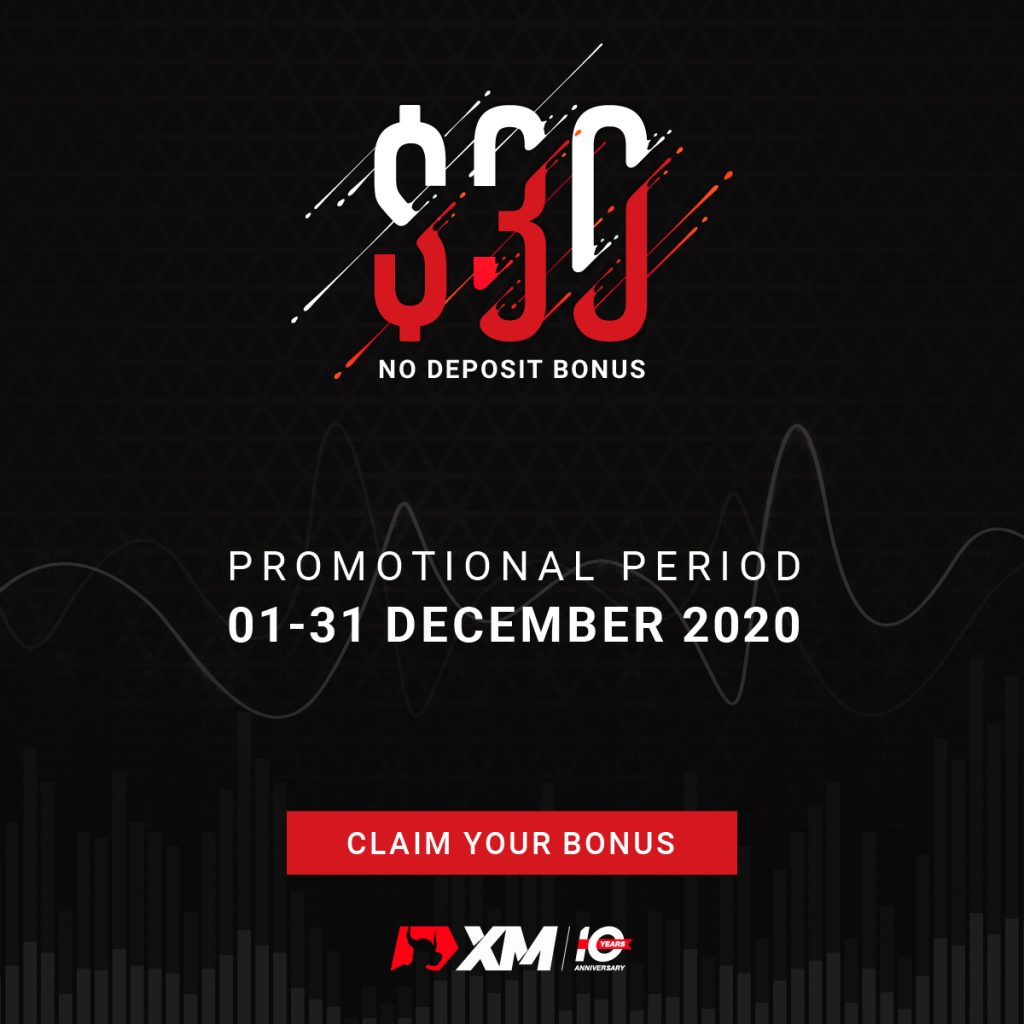 XM Broker Forex $30 No-Deposit Bonus Overview
The ongoing no-deposit bonus requires your attention to claim it if you are the newly introduced user of XM forex broker and want to test and trade the real market on the XM broker system setups. You have a total of 30 days in the month of December after the account registration and completing the mandatory steps which are mentioned below.

XM Forex Broker $30 No-Deposit Bonus Terms & Conditions To Withdraw Profit Amount
There are some important conditions to meet if you really want to take benefit from this no-deposit bonus opportunity. Here are the following terms and conditions settled by the XM global broker administration to combat the fraud and regulate the activity of the bonus program.
You must be a fresh user of XM broker at the time of bonus claim.
The IP address must be unique, having zero histories of XM broker account usage.
You must have to verify the account fully along with KYC verification to avail withdrawal opportunity.
You must have to trade 10 micro-lots of bonus amount so then you will able to withdraw your profited amount.
The bonus amount of $30 cannot withdrawable but you can withdraw the above amount of $30, whatever you profit made by trading your bonus amount.
When you withdraw your profit equivalent percentage of the bonus amount will also deduct from your bonus account i.e you made a $100 profit and withdraw $50 from your profit that is 50% so that percentage of 50% will deduct from the bonus amount which will be half of $30 and remaining bonus $15 you have remaining for trading.
The XM broker terms & conditions also identify that hedging will not allowable in this program.
Shares Trading is not allowed or irrelevant to this bonus account.
The company reserve the rights whenever they want to change the policy of the bonus program by informing the users, as well as they, can nullify the eligibility of any user who notices as an activity violator of the system without their consent.
How To Claim XM $30 No-Deposit Bonus
To claim the no-deposit bonus amount first of all you have to sign up for your account at XM broker Member Area Click Here To Claim $30 Bonus Amount Directly.
After successfully confirm your email and then move ahead and complete your ID verification process to gain the privilege of depositing and withdrawing quickly.
After completing the KYC process you can now able to claim your $30 bonus amount from the promotional tab or either through the claim button below given after the OTP verification.
Now you are able to trade your credited equity and make a profit out of it and make withdrawals.
Currently, XM is providing Skrill, Neteller, VISA, MASTER card, Webmoney & Local Banks Transfer Payment channels After KYC verification
Thoughts On $30 Bonus Program
This opportunity is especially seemingly for those who want to avail this to trade in the real market with the real equity to get monetary benefit out of it. This program will end on until 31st of December 2020 so it's great to offer for the XM new users who are ready to avail of it before the new year beginning. You can trade it properly with money management to avoid any chance of losing equity and chance of getting profitable withdrawal out of it. Suggestively on the equity of $30, 1 micro lot is only sufficient to trade on per definite major entry of great probabilities.